Haaland overtakes Mbappe as world's most valuable player
Borussia Dortmund striker Erling Haaland has overtaken PSG's Kylian Mbappé as the most valuable player in the world with a market value of €144 million, according to new analysis by the KPMG Football Benchmark.
Haaland's value has increased by 8% increase since July 2021 while Mbappé's has dropped as he enters the final year of his current contract at PSG. Chelsea's Romelu Lukaku improved by the most positions in the last three months, joining the overall top 10 for this first time after his transfer to Chelsea.
In contrast, KPMG report authors note, Manchester City's Raheem Sterling dropped six positions, now 16th in the ranking. Manchester United winger Jadon Sancho also joins the top 10 after a slight increase in his estimated market value.
Overall KPMG say player values have been stagnant over the past year, and most players have still not regained their "pre-pandemic" market value. "Nevertheless, since the last valuation in July 2021, when aggregate market values for both the top 100 and top 500 players by market value slightly increased, a continued-but-minor growth can also be observed now," says the report.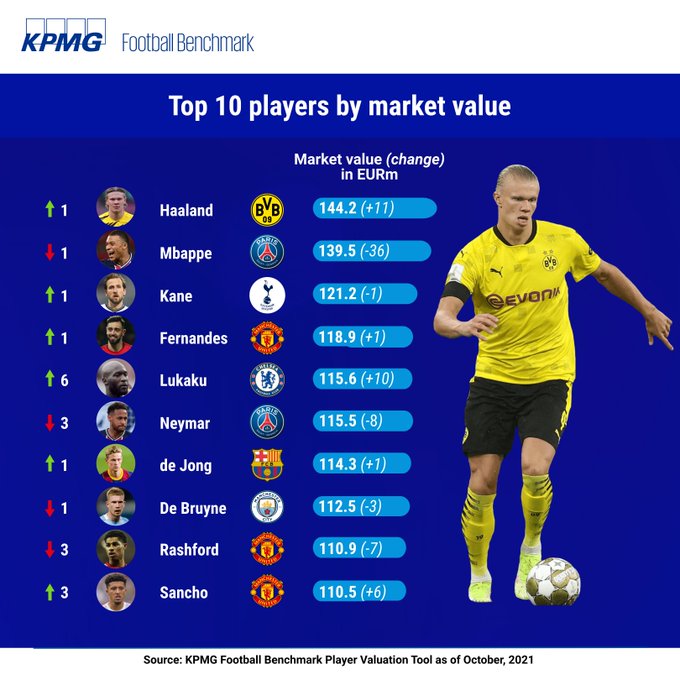 SOCCEREXPERT
The latest commerical details, groundbreaking interviews and industry analysis, free, straight to your inbox.
Sign up today to receive the newsletter.
Soccerex Reports
With the increasing value being attributed to young players, this report provides insight into the hottest prospects on the market.
---
Soccerex Football Finance 100 is an exclusive annual report that compiles a ranking of the world's most financially powerful clubs.
@soccerex
Follow us on twitter to receive our latest market insight, industry interviews and news about our upcoming events.